| | |
| --- | --- |
| | MECC - Munich Electronic & Computer Consultants |
Purpose
To discuss matters of common interest: fiscal, technical, professional, job opportunities etc, among Computer & Electronic Engineers/Developers/Technical Freelance Consultants etc.
MECC Is For
MECC Is Not For
Language / Sprache
Advance reminder of monthly meetings is sent by email.
We have no membership fees, assets, formal procedures etc.
We are not an "Eingetragene Verein"
We do not campaign for anything
Started by Julian Stacey & Martin Collins . First meeting Thursday 26th November 1998, Kapuziner Platz 5
Got lots of of questions before you come to Germany ? Don't mail us, we have no time! Contractor in germany questions & answers here
When We Meet
Location(s)
Best phone Julian or Gary J to check who is coming, the venue's still on etc !
We tend to use Restaurant with a No Smoking area (The author is tobacco allergic, & other regular MECC attenders also dislike smoke.

SUMMER

Our fine weather &/or summer default (unless otherwise announced on

Email List

) is

Paulaner Beergarden @ Kapuziner Plz

Kapuzinerplatz 5, 80337 Munich. Tel 544611.0

In suddenly bad

weather

- look for us inside the Paulaner Bräus building, in summer / warm

weather

- look for us in the self service part of the beer garden adjacent, run by the same management.

Kapuziner Directions etc

: Paulaner Brauhaus, Kapuzinerplatz 5, 80337. Line map http://www.berklix.com/~jhs/gifs/kapuziner.gif U Bahn 3 & 6, Goethe Platz. 1 block South East on Kapuziner Str, or South on Haberl Str, merging at Kapuziner Str, Then half a block South East on Kapuziner Str, & left into beer garden.

If bad weather, then inside, (one can take stuff in, if weather degrades). In middle room which is non smoking, towards back, further from smoking areas..

WINTER

Our winter cold weather default in months when beergardens are impossible :

http://www.weisses-brauhaus.de/

Before 2008.010.01: Upstairs the whole place is non smoking. Hopefully somewhere away from stairs as smoke drifts up.

After 2008.01.01 new Bavarian non smoking law: Still upstairs, as downstairs, the chloroform & nicotine etc will still be in walls & soft furnishings, returning to the air, & may be crowded, noisier, more tourists etc.

Yes we're still meeting on & off in 2009 (though this page doesn't get updated that often to indicate it).
Other Resources
The disruptive impacts of Brexit - a Berklix mail list to track that.
`Dead Beat Customers' ie Suspect you customer may not be Zahlungsfaehig ? (& remember that doesn't necessarily mean they wont pay anything, they may just muck around & pay late, after 3rd reminder or court summons, or they may make spurious accusations the work wasn't good enough, any excuse to try to wangle a discount or delay payment, or justify delaying the already overdue payment longer, etc. Some customers are golden, & pay properly on time for work done, a few other customers are occasionally best summarised in harsh 4 letter angle Saxon. Stay in business long enough & you'll meet both ends of the spectrum.
Translators have the same worries too. Here's URLs from a publication aimed for them, not us:

German Informationsaustausch für Dolmetscher und Übersetzer über Zahlungspraxis und Zahlungsmoral von Auftraggebern

News groups of possible interest include:

muc.markt.arbeit Munich
misc.jobs.contract Loads of mainly USA
de.etc.beruf.selbstaendig Much general discussion in German about local laws, taxes, promoting business, etc

Berufsverband Selbstaendiger in der Informatik e.V. Elbestr 51, 48145 Muenster.
VSI verband der Softwareindustrie Deutschlands e.V. Seitzstr 17 80538 Muenchen
DMMV Deutscher Multimedia Verband e.V. Osterwaldstr, 80805 Muenchen. I find no working URLs - jhs 4.2005
Gesellschaft fuer Systems Engineering Die GfSE ist der deutsche Zweig des International Council on Systems Engineering ( INCOSE , dem Internationalen Fachverband fuer Systems Engineering mit ueber 4000 Mitgliedern weltweit.
http://www.cray-cyber.org - Access to historical supercomputers - Munich base.
Magazine
Newcomers often ask me questions, common ones include Resumes:
If A Customer Doesn't Pay
Insolvency
Questions In German When Phone Searching For (Employee) Jobs
Wer sonst in Ihrem Unternehmen koennte jemandem mit meinem Qualifikationen gebrauchen ?
Hat Ihr Unternehmen anderer Abteilungen oder Tochtergesellschaften, die vielleicht jemandem mit meinen Faehigkeiten gebrauchen koennen ?
Kennen sie jemandem, der mir einen Tip geben koennte ?
Welche Firmen in dieser Gegend wachsen am schnellsten ?
An wen sollte ich mich dort wenden ?
Kennen Sie jemanden in Unternehmen X ?
Wann erwarten Sie, dass in Ihrem Unternehmen eine Stelle frei wird ?
Kennen Sie eine Unternehmenserweiterung oder neue Projekte, die eine freie Stelle schaffen Koennten ?
Ist eine Veraenderung Ihres Mitarbeiterbedarfs abzusehen ?
A Few Big Local Companies
Some companies with a presence local to Munich are marked here
Some German Lists Of German Companies
From John A Not looked at yet, I'll look later.
Right To Sell 2nd Hand Software Licences 2012
Professional &/or Industry groups we know of in the Munich area
Faraday Group (local arm of UK IEE (Institution of Electrical Engineers))

Faraday has a Munich mail list run by Philip Walters
IEE had a list for Germany called CTR_DE which could be sub' to

Maybe the BCS, British Computer Society might have local representation ? Anyone know ?
The RA[e]S, Royal [Astronautical/Aeronautical ?] Society has a branch here, Bernadette @ Faraday is a member
See also other groups on Techtalk@ list.
BIM: Berkeley In Munich: A BSD-Unix group is being created in Munich.
Are there perhaps also German speaking groups with similarly informal aims ? If so please let Author know, so he can update this page.
---
Here's a simple line drawing (click on map for larger).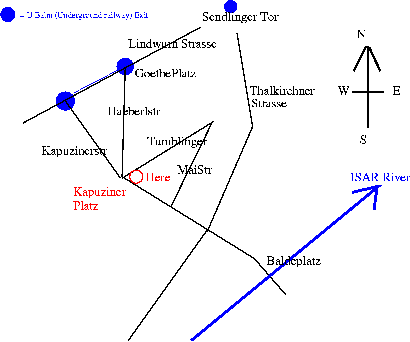 ---
A couple of jokes, about Consultants, Engineers & Managers, English & German.
---
Please do not email the Author questions.
---
If you are a contractor & want to discuss or change this page,
First join mecc@ Email List.
Then Mail changes, ideally in Unix diff -c (context diff) format.